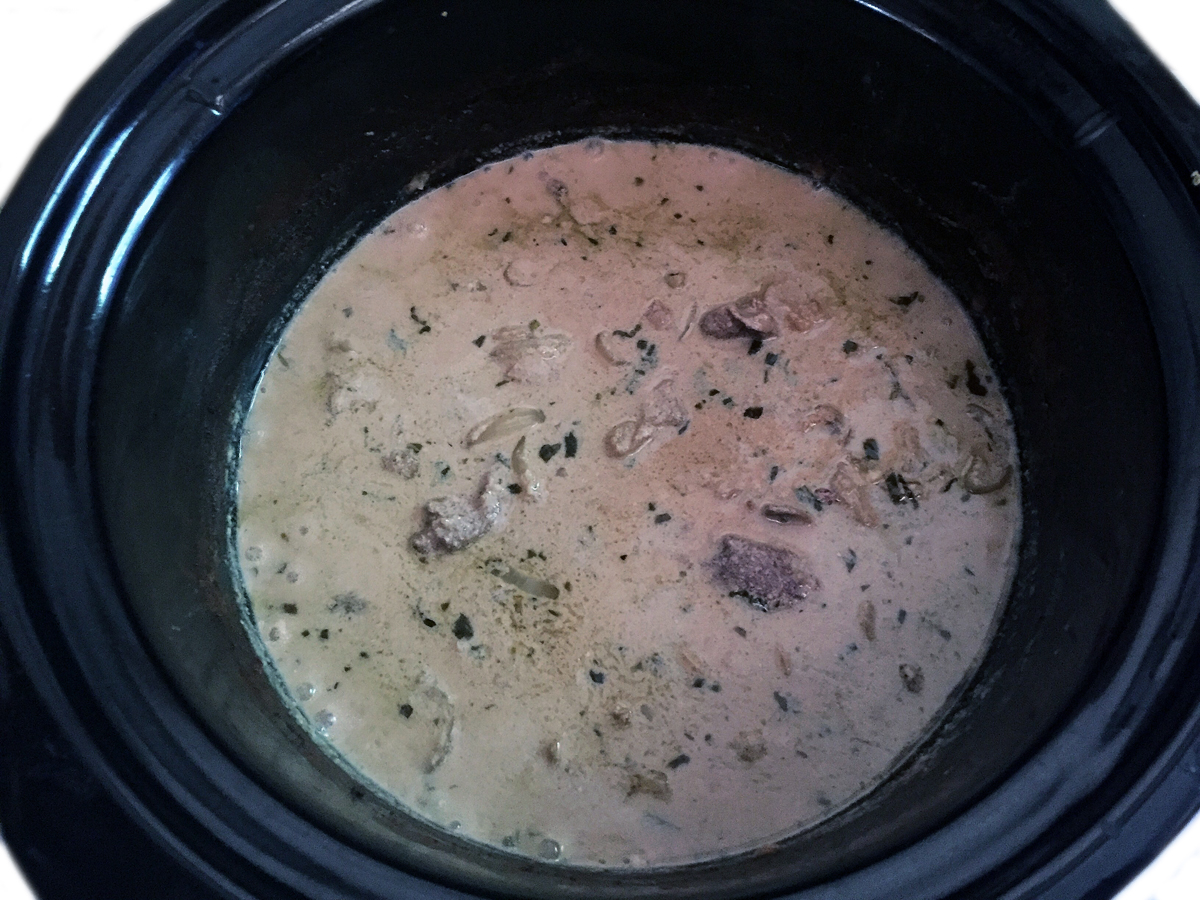 From: deerdat.com
By: Todd Page
This recipe  started out as versions using canned condensed cream of mushrooms. While it was good, it was way to salty for my taste. This led me to see about creating a version from scratch and control the amount of salt.
Ingredients
2 pounds of venison cube stead
4 (4 ounce) cans sliced mushrooms, drained
Save water/juice from drained cans mushrooms
4 tablespoon margarine
2 cups broth (Chicken, Beef, or Vegetable)
1 Onion halved and sliced
3 to 4 Cloves of garlic minced/crushed
1⁄2 cup all-purpose flour
1 cup sour cream
1 cup half-and-half cream or 1 cup milk
Salt and pepper, to taste
Extra flower or corn starch to thicken (optional)
Extra herbs and spices, to taste
Directions
In the crock pot, melt the butter
Add mushrooms, onion and garlic and mix. Wait till onions sweat
Slowly add flower and mix
Add broth and liquid from mushrooms an mix till flower and combined
Add half-half/mild and mix/stir
Add sour cream and mix
Once all ingredients is mixed add cube steads. Make sure cube steaks are covered/submerged
Cook in crock pot on low for 8 hours or high for 4 hours
Add salt and pepper to taste
Optional
Add Flower/Corn starch 1 table spoon at a time to thicken, wait till it thickens before adding more
Add your extra herbs/spices to taste, I added fresh basil from my garden
Brown (do not cook)  cube steak in a before placing in crock pot and add dripping to crock pot
Sautéed onion, garlic, and mushrooms in butter first
2 cups (16 oz) sour cream or french onion dip with real sour cream
Fresh mushroom, remove cap and slice. Save stalks and add to broth and blend in a blender.